The Old Mill is located within the Northumberland International Dark Sky Park an area that has been awarded Gold Tier status, the highest rating for viewing the stars.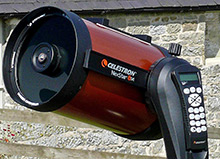 Weather permitting; guests at the Mill have the opportunity to view the stunning night skies with 10 by 50 binoculars, a small refractor telescope and a larger Nexstar 8 SE telescope. Red night vision torches and star charts are also provided. Experienced astronomers are welcome to bring their own equipment.
If you are interested in discovering the wonders of the night sky during your stay simply mention this on arrival and we shall make the necessary arrangements. You will need to bring warm clothing, (lots of layers work best) scarves, gloves, hats etc. For anyone new to stargazing, sessions will include an introduction to the main features of the night sky such as constellations, the planets, star clusters etc.
Our dark sky park is the largest in Europe and prior to your holiday you can check what other star gazing opportunities are available in the area - see http://www.visitnorthumberland.com/star-gazing-events/starmakers-stargazing-events or visit Kielder Observatory website to book an event at the Observatory, some 38 miles distant. See http://www.kielderobservatory.org/.
We look forward to introducing you to our wonderful night sky!